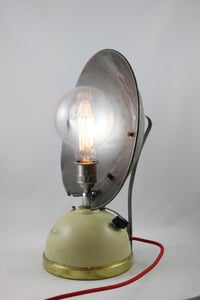 £

195.00
Name: Brass & Copper Table Lamp: Combining classic industrial vintage styling with handcrafted filament light bulbs. These fully dimming lamps are perfect for home or office.

Base: Brass

Reflector: Steel finish

Handle: Metal frame with wooden handle

Height (tallest): 420mm

Width (widest): 300mm

Bulb holder type: Screw fit

Bulb: Large 100mm Filament Globe - 60W - 40v | Not supplied as standard

Features: Dimmer with Bakelite knob - Original Pump - Red Fabric Cable as standard

Please allow two weeks for delivery in the UK. Outside the UK timings may vary.